Former city councilman Richard Sammons dies
Published 9:34 am Wednesday, June 17, 2015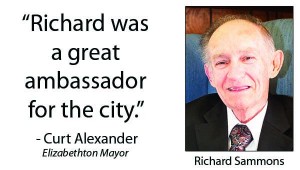 A dedicated council member, a great ambassador for Elizabethton and a man of God with respect for all and integrity.
Those are just some of the ways friends and former colleagues describe Richard Sammons, who died Monday night after a lengthy illness.
Sammons, an Elizabethton native, served three terms on the Elizabethton City Council before deciding not to run for re-election in 2012. He was elected to his first term in 2000.
Mayor Curt Alexander served with Sammons on City Council from 2004 until Sammons retired.
"Richard was a great ambassador for the city," Alexander said. "We has a great council member and a great man. He always did what he thought was best for the city. He will be sorely missed."
Councilman Richard Tester also served with Sammons and looked back on their time in public office together.
He described Sammons as an outstanding councilman and a great business leader.
"He was a leader while on the council," Tester said. "He was a man of God, and of great integrity. He had respect for all."
Sammons retired from council in 2012 after three terms. During his time on council, Sammons was a tireless supporter of Elizabethton and worked on a variety of issues such as education, health care and the city's water supply. Sammons also served as the council liason with the Elizabethton Board of Education.
A lifelong Elizabethton resident, Sammons earned a degree in political science from East Tennessee State University. He was a certified public accountant, president of Sammons Restaurants Inc., in Elizabethton and a veteran of the U.S. Navy.
Sammons and his wife Doris have two daughters, Debra and Denise.