Mayor narrowly retains chairmanship
Published 8:58 am Tuesday, September 22, 2015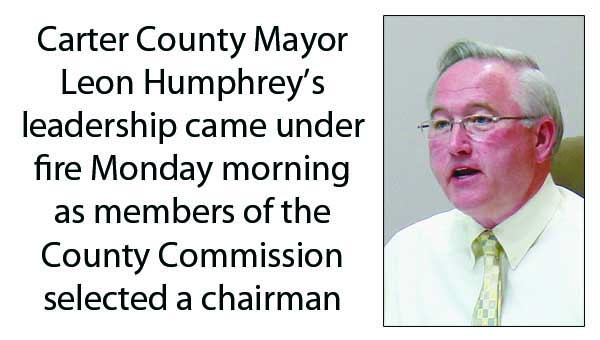 In a split decision after a lengthy debate Monday morning, members of the Carter County Commission voted to return Carter County Mayor Leon Humphrey to the chairman's seat for the governing body.
The vote to fill the position came down between Humphrey and longtime Commissioner Buford Peters. Commissioner Ray Lyons nominated Humphrey, while Peters was nominated by Commissioner Willie Campbell.
Before casting their ballots, several members of the Commission voiced their opinion on the job done over the past year by Humphrey, with some criticizing how the mayor has conducted business.
One point of contention raised by Commissioner L.C. Tester was regarding Humphrey giving his opinion on county business or votes before the Commission. The chair of the Commission is not supposed to influence the votes of the members, Tester said.
"If a chair wants to discuss something before the full Commission, that chair is supposed to step down, and that has not been done," he said. "This present chair has pushed and strong-armed this Commission since day one."
"If something comes up that he doesn't like he brings it back up until he gets his way," Tester added.
Tester was not the only member of the group to call into question how Humphrey presides over meetings.
"We have seen, throughout this year items brought to the floor multiple times after being defeated," Commissioner Al Meehan said. "Commissioners have been left standing because the chair did not want to recognize them to enter discussion."
"The chair should not be about control or cruising dissent and it should not become a bully pulpit as it has the potential to be," he added.
Meehan also cited the constitutional principle of separation of powers as a reason the County Mayor should not serve as chairman of the Commission, making a comparison of the mayor as the executive branch while the Commission is the legislative branch.
"Personally I feel the legislative body should be chaired by a legislator," Meehan said.
While some spoke out against actions taken by Humphrey, others defended the Mayor.
"I don't think he has strong-armed me one time," Commissioner Timothy Holdren said. "He has never called me out or tried to sway me on a single vote."
"He is knowledgeable on most issues and he gives input and I appreciate that," he added.
Commissioners John Lewis and Robert Carroll also defended Humphrey against the claim he influenced votes.
"I vote my conscience and I vote what the people in my district have voiced," Carroll said. "I don't vote for any one person."
Humphrey also addressed some of the comments made about him.
"This Mayor has been accused of having an agenda, and you are 100 percent correct, I do," he said, adding his "agenda" was to serve the citizens to the best of his ability.
When there votes were taken, Humphrey had captured 14 votes to Peters' 10. Commissioners Nancy Brown, Ronnie Trivett, Charles Von Cannon, Isaiah Grindstaff, Ross Garland, Holdren, Randall Jenkins, Lewis, Larry "Doc" Miller, Lyons, Scott Simerly, Carroll, Robert Gobble and Cody McQueen cast their votes for Humphrey. Commissioners Campbell, Peters, Robert Acuff, Mike Hill, Meehan, Bradley Johnson, Tester, Danny Ward, Bobbie Gouge-Dietz and Sonja Culler voted for Peters.
In a subsequent vote, Peters was selected to serve as vice chairman for the body.