Lady Cyclones fall to Greeneville second half blitz
Published 12:17 pm Friday, September 29, 2023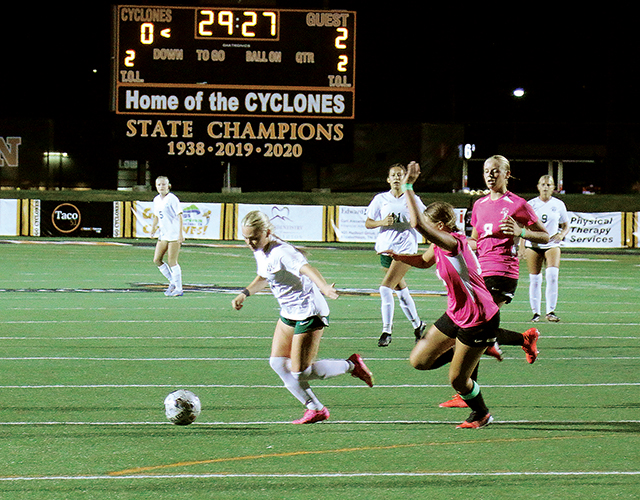 STAR CORRESPONDENT
For 40 minutes on Thursday night at Citizens Bank Stadium, the Elizabethton Lady Cyclones held the Greeneville Lady Greene Devils scoreless and frustrated as the teams went into the break 0-0.
The second half was a different story, however, as the Lady Devils scored six goals and took the game over in a 6-0 non-conference victory.
"We got a little bit gassed in the second half," Lady Cyclones head coach Lauren Meier said. "Greeneville is a very good team, so I was happy with the first half. I think we frustrated them; I don't think they were expecting that."
The Cyclones come off three consecutive games and were understandably leg weary against the speedy Greene Devils who have several players with magnificent speed and they showed that in the second half.
In the 46th minute, Kiley Scott got Greeneville on the board with a low shot on a free kick from 20 yards out, that beat EHS sophomore goalkeeper Abbie Krawcyzk to her right. Scott took advantage of the official placing the ball down and fired a shot before EHS could set up the line to take the one goal lead.
Three minutes later, senior Kendyl Foshie scored to make it 2-nil and the Greene Devils took control of the match. The Cyclones continued to play strong defense although they were not able to put much of a threat to Greeneville offensively.
"Against a team like that which has so many weapons offensively, we couldn't get much offense going against them," Meier said. "I was very proud of the way we played in the first half, but we couldn't sustain it in the second half."
As the game went into the late stages the Devils scored three goals in six minutes as Anna Shaw scored in the 62nd minute. Shaw scored once again in the 65th minute, taking the ball from inside the Devils penalty area and dribbling the length of the field weaving her way past EHS defenders to score on a high blast for a 4-nil Devils lead.
In the 68th minute, Foshie scored her second goal of the match with an assist from Gabi Stayton for a 5-nil advantage. In the very late stage of the match, Abigail Adkins scored with a little more than a minute showing on the clock.
EHS saw junior Savannah Smith collect two yellow cards in a physical second half and had to leave the match, leaving EHS shorthanded, while Foshie and Adkins also were shown yellow cards for Greeneville.
"Playing with 10 is really tough," Meier said. "There was no way we could move forward."
Greeneville 6-0
Greeneville 0 6 – 6
EHS 0 0 – 0
Scoring Summary
Second Half
G – Scott (unassisted) 46:00
G – Foshie (unassisted) 49:00
G – Shaw (unassisted) 62:00
G – Shaw (unassisted) 65:00
G – Foshie (assist Stayton) 68:00
G – Adkins (assist Shaw) 79:00