Lady Cyclones on top at Rocky Top Classic
Published 3:49 pm Tuesday, September 15, 2015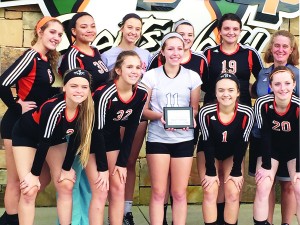 Over the weekend, the Elizabethton High School Lady Cyclones stormed over to Gatlinburg, where they took first in their division during the Rocky Top Classic.
Things started out slow for the Lady Cyclones as they dropped all three matches Friday. During their first match of the tournament, the Lady Cyclones faced off with Station Camp, winning the first game 25-21. But Camp took the next two games, and Elizabethton dropped their matches with Carbon Hill, Ala., and Heritage in straight games.
"We came out flat on Friday but were in a super competitive pool," EHS coach Leslee Bradley said. "In fact, all of the teams in our Friday pool played in a championship match after the divisions were created for Saturday."
After a competitive match with Madison County on Saturday, the Lady Cyclones began their second day with another loss. However things soon changed for the Cyclones. In their next match, they topped Lenoir City, 25-23, 15-25, 15-13. Once the Lady Cyclones started winning, they couldn't stop as they bested their next two opponents to take first place in the Copper Division. One of those opponents was Three Rivers Conference foe Sullivan East, who currently sits in second in the conference behind Sullivan South. The Lady Cyclones were able to defeat the Lady Patriots in two straight games, 25-15, 29-27.
In the championship match, the Lady Cyclones had no problem as they topped Kenwood, 25-14, 25-7.
In stats, the Lady Cyclones were led by Madyson Smith, who recorded 36 kills and 55 assists. Smith also finished the tournament with the second most aces with 14. Leading in serving was Sarah Slagle, who had 25, while recording 26 kills. Shelby Whitehead finished the weekend with 45 digs, while her teammate Rikki Wagner led the team in blocks with 6.
The Lady Cyclones were 96 percent in serving as a team, while Smith, Hambrick, Whitehead, Rachel Robinson, and Talor Lowe were all 100 percent in serving.
"We have been emphasizing keeping our serving percentage high and I'm very pleased that we were able to do that," Bradley said.
After a big weekend in Gatlinburg, the Lady Cyclones are looking ahead to a busy week. On Tuesday, Elizabethton will face conference front runner Sullivan South, before taking on Sullivan East on Thursday at John Treadway Gym.
"Overall, it was a good effort," Bradley said. "I was pleased with our resiliency after a disappointing start. We are continuing to make good decisions offensively, read the ball defensively and make adjustments during the flow of the game."
"We have a big week coming up this week with matches at South and East and I believe we will use this weekend to push toward our best volleyball of the season," Bradley added.